SINGLE CUP GOLD FILTER C211 Series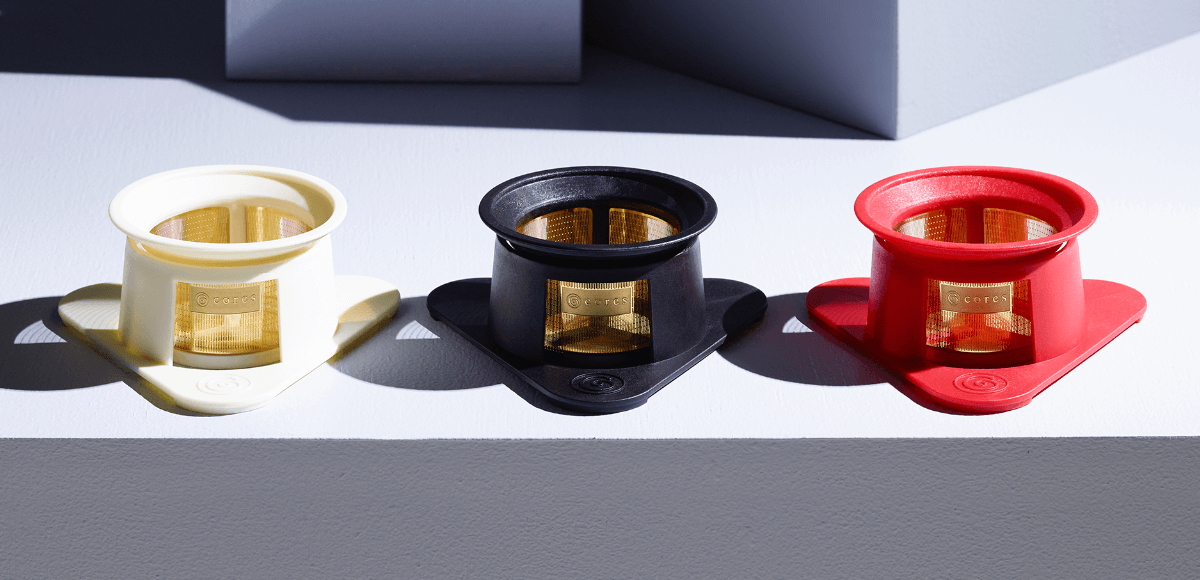 Coffee will taste better when using a Gold Filter in your favorite color
Cores Single Cup Gold Filter easily brings out the original characteristics of coffee, thanks to its gold mesh filter.
Red and white color options have been added to the classic black.
The new colors will make your coffee time more colorful and fun.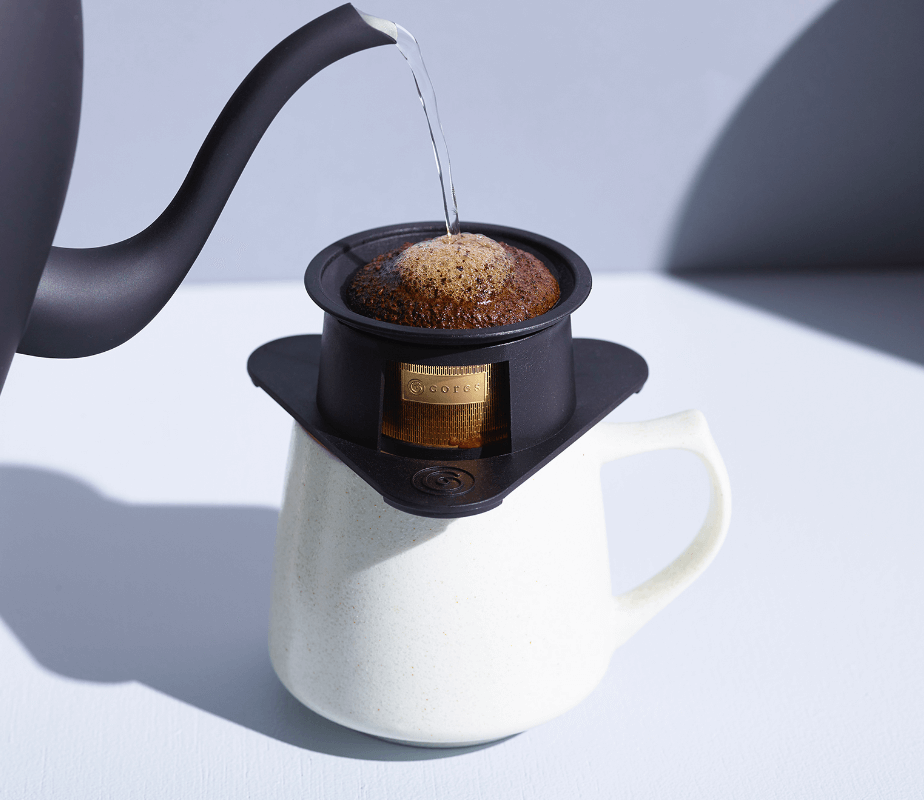 A great cup of coffee can be brewed easily
Cores Single Cup Gold Filter is a gold plated filter which is designed for brewing a delicious single cup of coffee.
Simply, place ground coffee and pour hot water.
It is easy and fun for anyone.
The secret is in the gold mesh
Since the gold filter is chemical reaction resistant, its effect on the coffee flavor and aroma is kept to a minimum, enabling to extract the best out of coffee.
It is also a perfect way to compare and enjoy the differences between high quality coffees.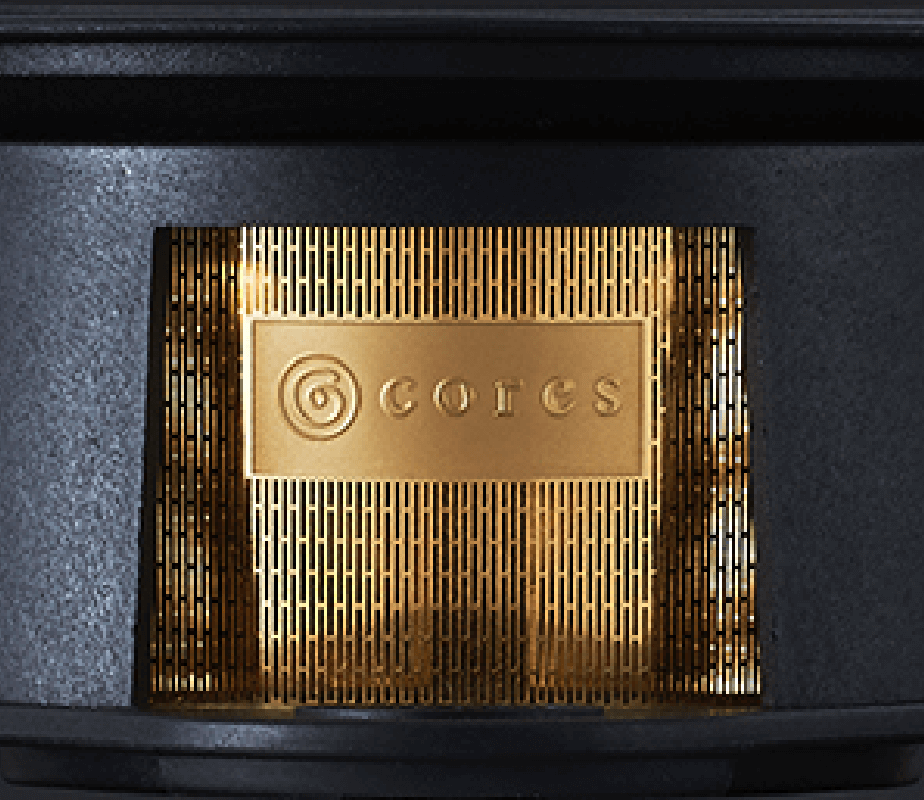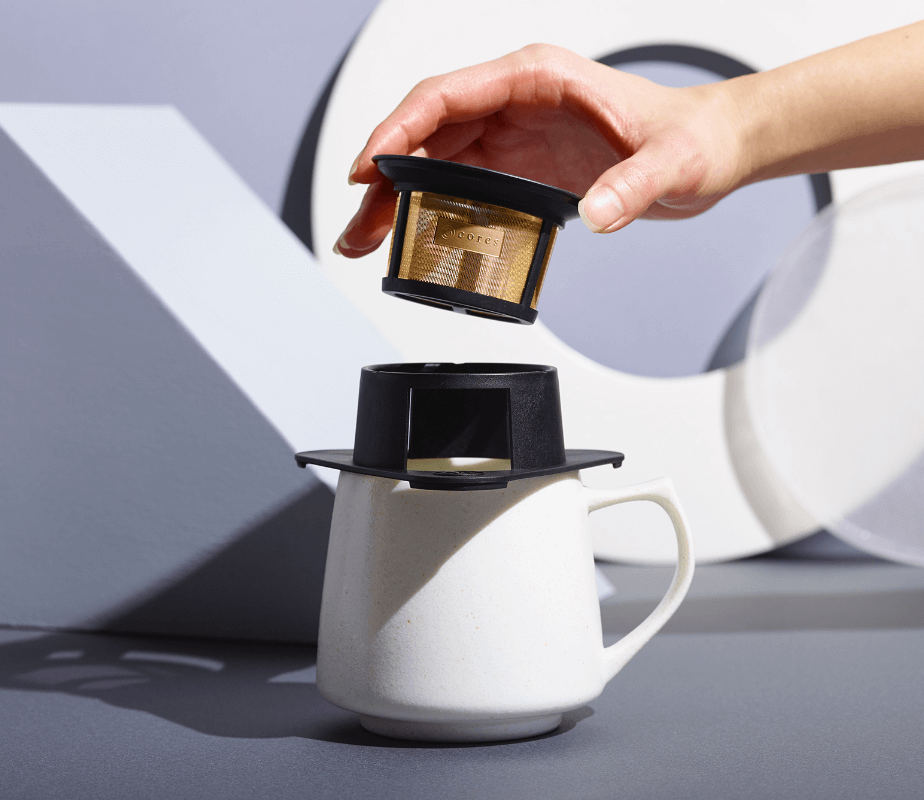 Filter holder is cleverly designed
The filter holder is specifically designed for Cores Gold Filter. Contact points to the filter are kept to a minimum, this helps to achieve smooth extraction.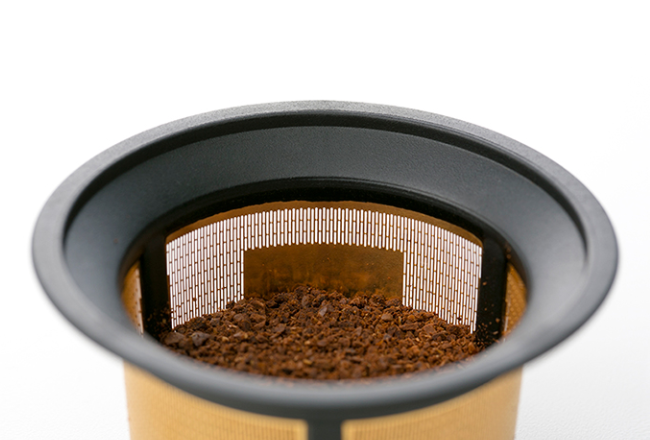 Use the logo plate as a guide
The grind size is recommended to be medium,  or a bit coarser. Please use the "Cores" logo plate as a guide for the amount of coffee to be used.

Almost up to the top of the "Cores" logo plate.

Around to the line on the bottom of the "Cores" logo plate.

The "Cores" logo plate has to be completely visible.
Q & A
よくあるご質問
How much coffee or hot water should I use?
Please read the user manual or the section shown below to learn the amount of coffee and hot water required. Product information for "
Cores Gold Filter C240・C280
"
While paper filters absorb coffee oil, the gold filter allows coffee oil to be extracted as well. This is why there is coffee oil floating on the surface of coffee in a cup. It is important for enjoying unique characteristics and flavor of coffee to directly extract coffee oil.
HOW TO USE A HAND DRIP
STEP1

Boil the water.

STEP2

Set the filter and holder on a cup.

STEP3

Put medium-medium coarse ground coffee in the filter.

Put approx 11g of ground coffee and level it out.

STEP4

Start pouring hot water in a circular motion and let the ground coffee bloom.

The 1st pouring is around 20ml to make the entire coffee wet, and wait around 30-40 seconds for infusion.

STEP5

Keep pouring.

Amount of hot water needed is approx 180ml for a cup.

STEP6

Remove the filter.

Once you finish pouring hot water, remove the filter and serve.
Due to the nature of metal filters, there will be a small amount of ground coffee in the cup, however, this does not affect the quality of the cup. You may choose not to drink entirely and leave the coffee grounds on the bottom of the cup.
We recommend using freshly roasted coffee, in order to hold hot water long enough.
Feature
製品の特徴
Pure gold plated filter is chemical reaction resistant and allows full flavor and aroma to be extracted.
Since there is no need for a paper filter, it is environmentally friendly and more economical.
Vertical-shaped mesh allows hot water to flow smoothly without clogging up.
It's much easier to make a cup of coffee than using general brewer.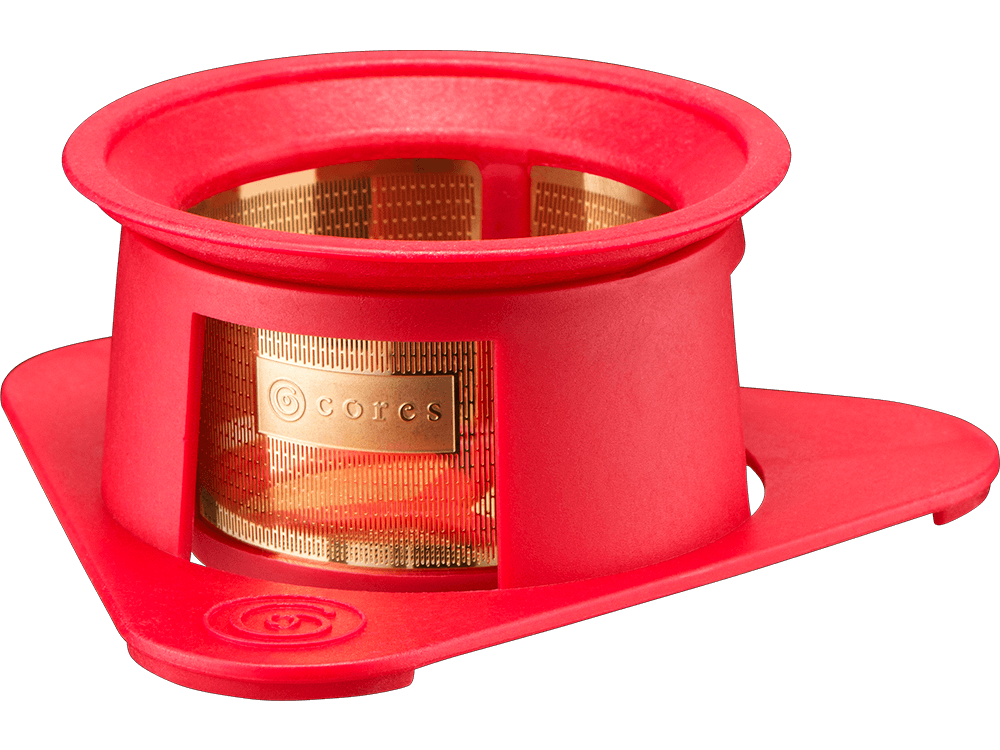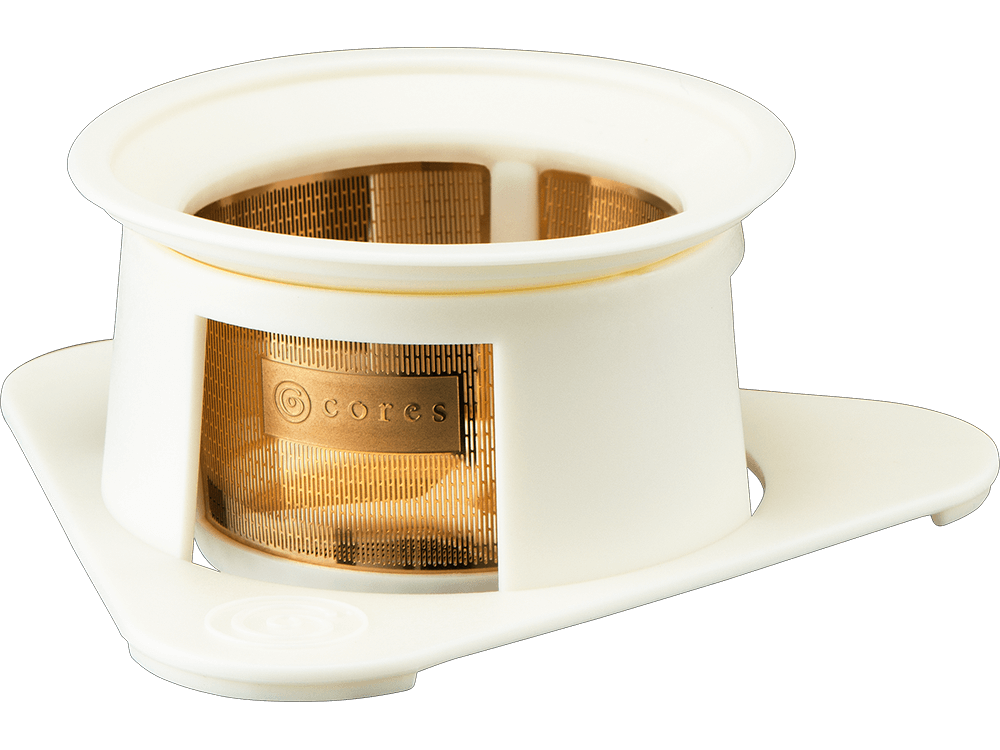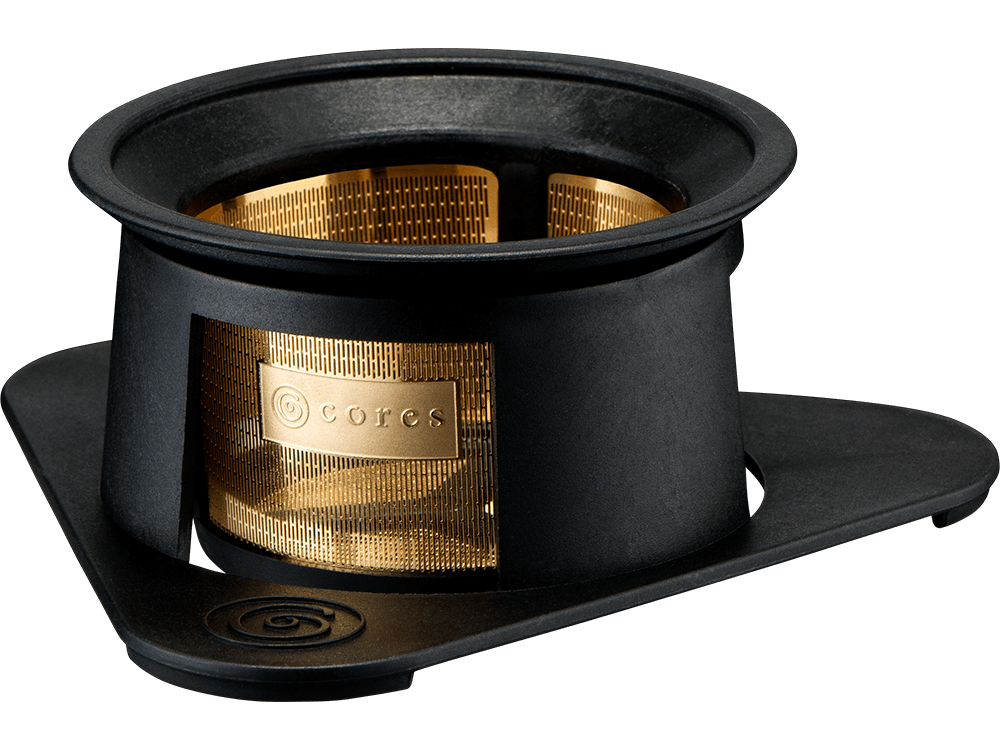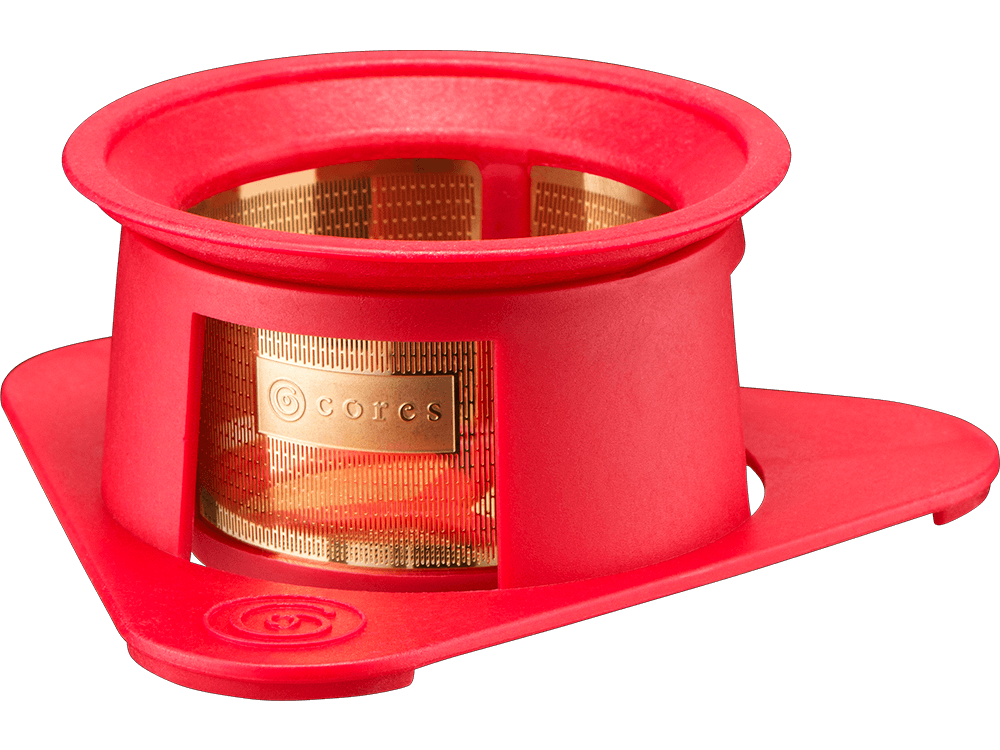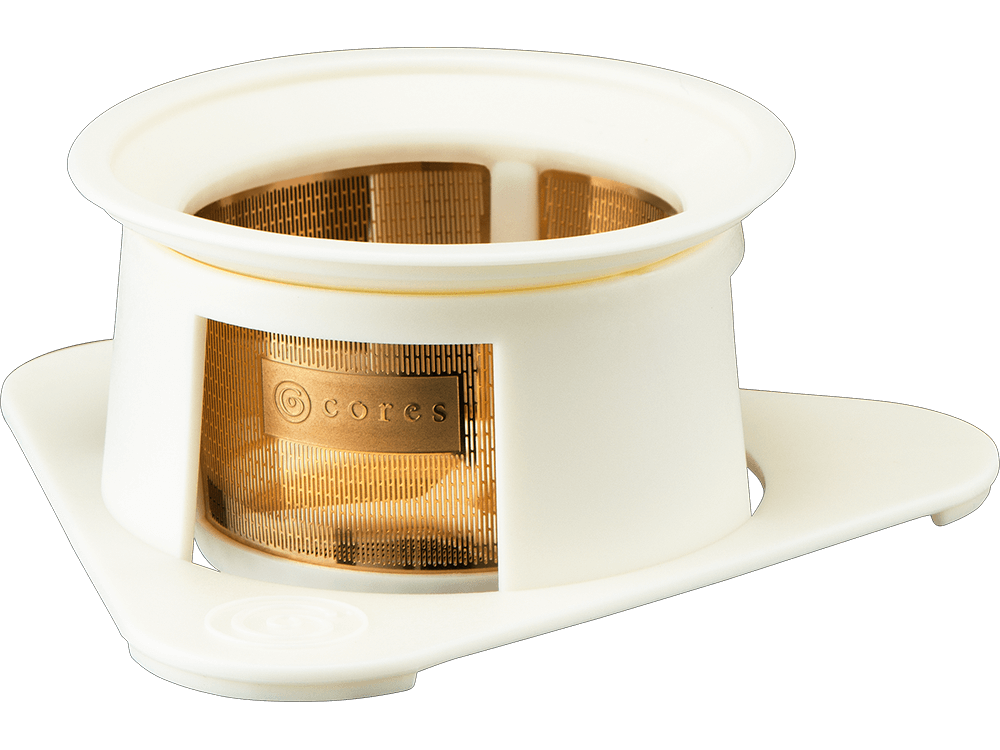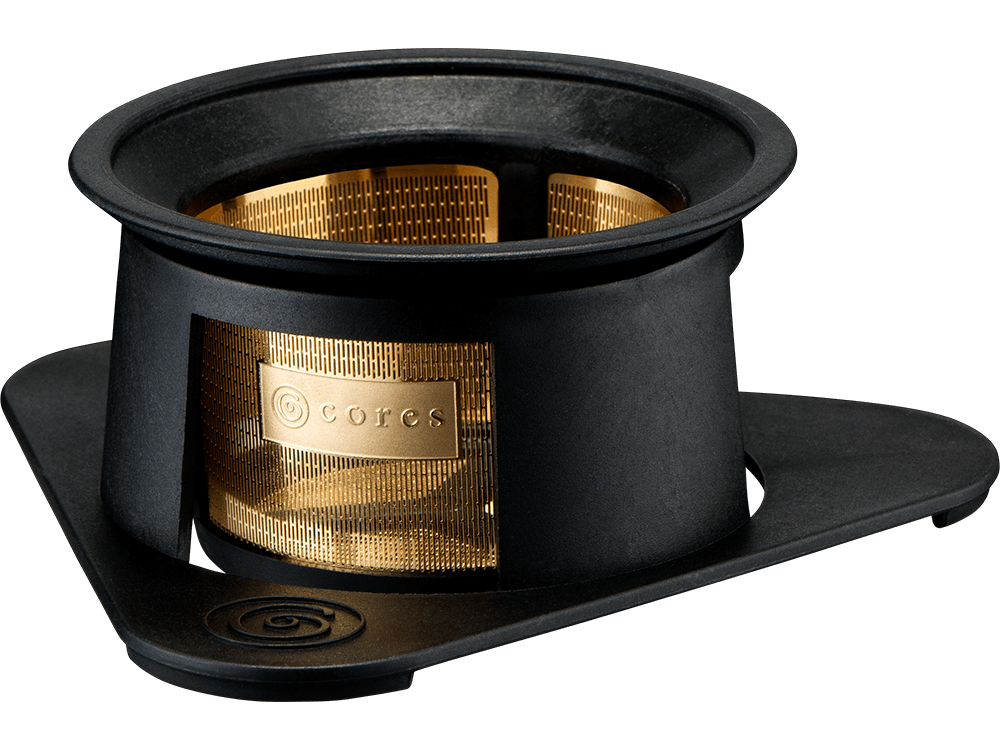 SINGLE CUP GOLD FILTER
MODEL:C211RD
DIMENSION:W10.5×D9.5×H4.0cm
WEIGHT:30g
MATERIAL:Gold platedl, stainless steel, Polypropylene
HEAT RESISTANCE TEMPERATURE:135℃
WEIGHT OF GROUND COFFEE:approiximately 11g for 1 cup coffee
ACCESSORY:Holder
COUNTRY OF ORIGIN:China
SINGLE CUP GOLD FILTER
MODEL:C211WH
DIMENSION:W10.5×D9.5×H4.0cm
WEIGHT:30g
MATERIAL:Gold platedl, stainless steel, Polypropylene
HEAT RESISTANCE TEMPERATURE:135℃
WEIGHT OF GROUND COFFEE:approiximately 11g for 1 cup coffee
ACCESSORY:Holder
COUNTRY OF ORIGIN:China
SINGLE CUP GOLD FILTER
MODEL:C211BK
DIMENSION:W10.5×D9.5×H4.0cm
WEIGHT:30g
MATERIAL:Gold platedl, stainless steel, Polypropylene
HEAT RESISTANCE TEMPERATURE:135℃
WEIGHT OF GROUND COFFEE:approiximately 11g for 1 cup coffee
ACCESSORY:Holder
COUNTRY OF ORIGIN:China