"Cores Gold Filters are ideal filters for me as they help to extract coffees with flavors that gradually develop on your palate"
"Before I ask you about "Cores Gold Filter", please tell us about the history of Maruyama Coffee"
"Maruyama Coffee celebrated the 26th anniversary on the 25th April last year. The flagship store opened in Oiwake, Karuizawa, before moving to the current headquarters' location. The first 10 years was all about experimenting with various roasting methods in search of a delicious cup of coffee, but once I realized that "the quality of green coffee beans" is the most important element, my focus shifted to visiting producing countries so that I can carefully select the coffees that I purchase. The more countries and farms I visited, the larger volume of coffee I began to stock".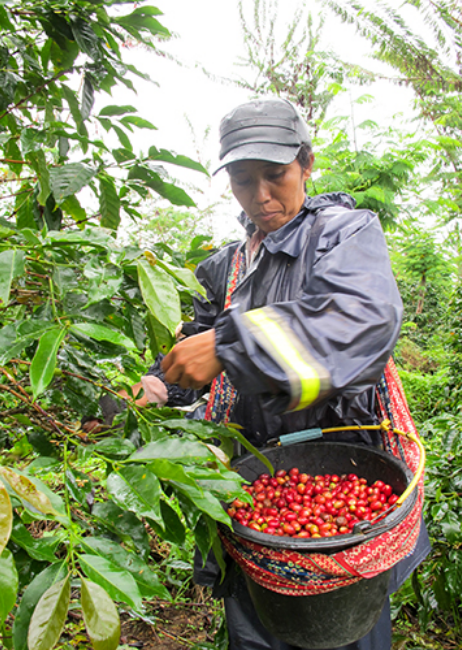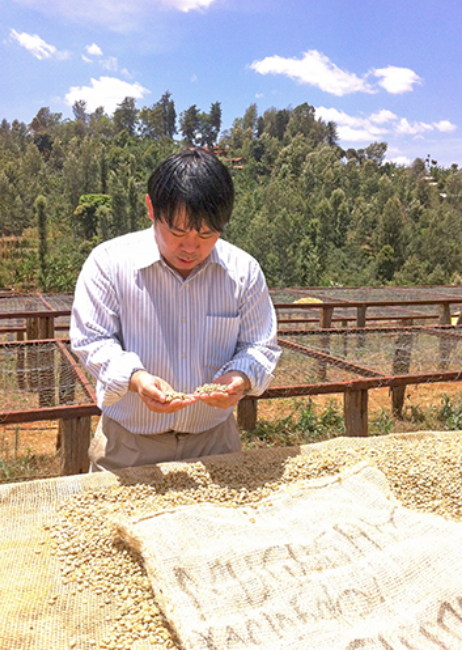 There are many cafes serving high quality specialty coffees these days, but what would be the point of difference for Maruyama Coffee?
I think our history and experience of directly trading with producers for more than a decade would be advantageous.
I travel to coffee producing countries such as Honduras, Panama, Brazil, Guatemala, El Salvador, Costa Rica, Colombia, Ethiopia and Kenya, and stay in these countries for more than 150 days a year. We buy our coffees from hundreds of farms in 20 producing countries, and our focus is on the quality and taste of coffee. It is important for us to build trust based relationships with producers therefore, good communication is essential.
In addition to the "Direct Trade" business model, we are also focusing on developing our original roasting techniques as well as training Baristas. This means that we are committed to the entire process from purchasing beans to handling, roasting, and brewing our coffee in order to serve the best cup of coffee for our customers.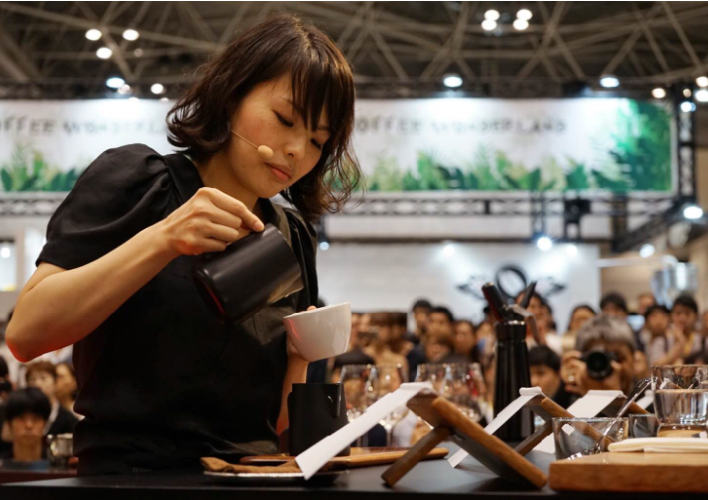 I don't think it is going to be a short-term trend but will be adopted as a normal brewing method for years to come.
You have been in the front line of specialty coffee industry for more than 10 years. Would you feel that the hand drip coffee is becoming ubiquitous in the world?
While there are more cafes serving hand drip coffees in Europe and The U.S, not many people regularly drink hand dripped coffee at home. However, Japanese love taking time to brew a cup of coffee for themselves as well as their guests. It just fits in our culture perfectly, so I don't think it is going to be a short-term trend but will be adopted as a normal brewing method for years to come.
It was around 2010, when the specialty quality coffees became widely available and more consumers started to buy coffee beans, that we heard you saying "Metal filters enable you to extract coffee well".
We then decided to develop a metal filter with your help.
Let's now talk about "Cores Gold Filter".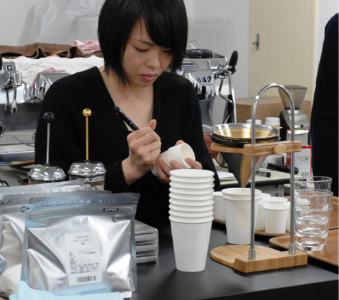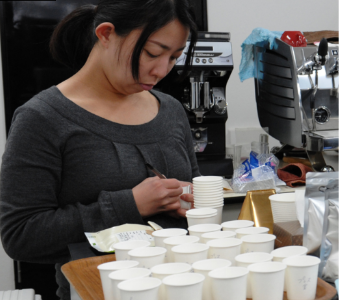 Tasting coffees extracted by a prototype of Gold Filter at Seminar Room of Maruyama Coffee.